Return Policy
      Returns
      If you are NOT 100% satisfied with your purchase, you can return the product and get a full refund or exchange the product for another one, be it similar or not.
      To be eligible for a return, the following conditions must be met:
Customers must call 3 Star Industries (859)488-7447 ext 105 to receive a return authorization number (RA#).
The RA# must be written clearly on the outside of the return box.
Returns will not be processed without an RA#.
All returns must be in new condition, in their original packaging, and in 100% resellable condition.
Returns not in resellable condition will be inspected and a damage percentage assessed.  The percentage of damage will be deducted from the applicable refund.  If the damage has created an unsellable product, a refund will NOT be granted.
Returns must be addressed to 3 Star Industries, Inc. 2477 Concrete Road, Carlisle, KY 40311
From time to time, 3 Star Industries may offer discontinued or closeout items at discounted prices.  Sales for discontinued or closeout items are non-refundable.  The product details will indicate if the item is non-refundable.
      Wrong or defective items
      Every effort is made to ship a quality product to your satisfaction.  However, when items are sent incorrectly, damaged or defective, 3 Star Industries will exchange the item or issue a full refund.  In some 
      cases, 3 Star will require photos or additional information to process a return.  If an item needs to be returned, please follow the return procedures above.
      Refunds (if applicable)
      Once your return is received and inspected, we will send you an email to notify you that we have received your returned item. We will also notify you of the approval or rejection of your refund.  If you are
      approved, then your refund will be processed, and a credit will automatically be applied to your credit card or original method of payment, within 5 business days.
      Shipping within the continuous US 48 states
      All 3 Star Industries products ship free to the continuous US states (lower 48 states).
      Shipping outside the continuous US 48 states
      Quotes for shipping outside the continuous 48 states (lower 48 states) can be obtained by calling 3 Star Industries at (859)488-7447 ext. 115 or e-mailing our sales department at sales@3starindustries.com. 
      Once you agree to the shipping charge and authorize us to charge that amount, your order will be processed.  Shipments outside the United States cannot be guaranteed by 3 Star Industries and are
      shipped at the buyer's risk.  Lost shipments outside the United States are NOT eligible for replacement or refund.


About 3 Star Industries
All-terrain vehicles first came to market in the 1960s with the introduction of the Jiger produced by the Jiger Corporation and the Terra Tiger made by Allis-Chalmers. While fun to ride for recreation and leaving a light footprint for farmers, the ATV unfortunately had issues, with safety being the main concern. Out of safety concerns, all-terrain vehicles with ROPS, also known as a roll over protection system, were introduced in the 1990s.

With additional passenger capacity, the vehicles soon came to be known as side-by-sides. Side-by-sides have proven to be so popular they now out pace ATVs in sales almost 2-1. However, customers in both the recreation and utility market want and need to ride in any climate.

That's where 3 Star Industries found their niche — manufacturing premium windshields and enclosures for the side-by-side market. We saw a need for quality aftermarket products that cost less than the OEM's offerings.

For over a decade, 3 Star Industries has been manufacturing after-market windshields and enclosures for most makes and models. Such brand names as Polaris, Can-Am, Honda, Yamaha, Kubota, John Deere, and Kawasaki are serviced by 3 Star Industries design and production teams. 3 Star Industries product offerings include multiple windshield options along with rugged canvas enclosures to keep riders comfortable in any environment.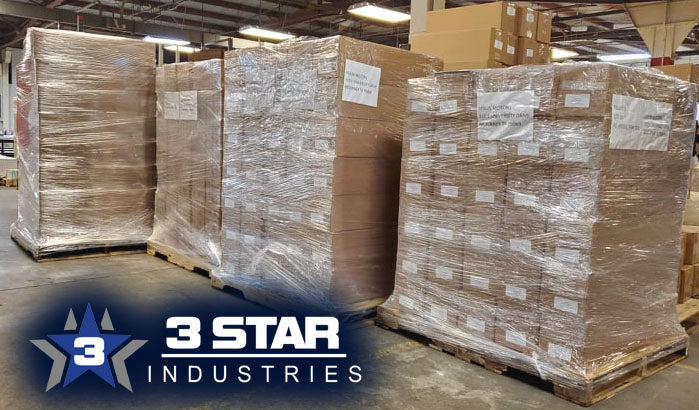 3 Star Industries is a small business in a small town. We operate at 2477 Concrete Road in Carlisle, Kentucky in a 45,000sf building that once produced most of the white Jockey underwear sold in the 60s, 70s, and 80s. Unfortunately, jobs like that left America near the turn of the century seeking cheap labor. As a result, we count ourselves blessed to be able to bring jobs back to our little corner of the world.

In addition to jobs, 3 Star Industries is a community focused business. We support multiple charitable organizations in the area such as our local school's backpack program, local churches, the Cancer Care Fund, our local animal welfare shelter, school organizations, and others.

Last, but certainly not least, 3 Star Industries is a business guided by Christian values. This business is to be used to expand the Kingdom and to be an ambassador of Jesus Christ. By being good corporate stewards to our customers, employees, vendors, and community we will strive to develop other Christian marketplaces. After all, 3 Star Industries is named for FATHER, SON, and HOLY SPIRIT. THOSE ARE OUR 3 STARS!